Gerald "Jerry" Catania (1945 – 2020)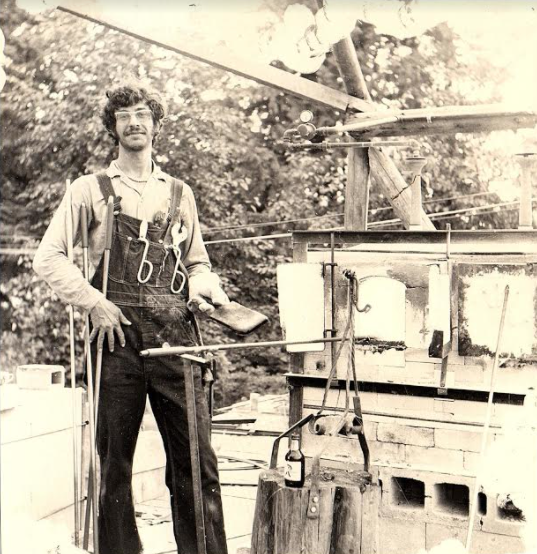 Midwest glass pioneer and gifted art educator Jerry Catania, peacefully left an artistic legacy behind, on May 13, 2020, at the age of 74 years young.
Jerry's career in glass started serendipitously in 1971 with a flameworking workshop on Trinidad, while serving in the Peace Corps in the West Indies. The following year, he was one of 30 students accepted to attend a new glass school called Pilchuck, where he learned how to build a glass studio, before he picked up a blowpipe. There he met Dale Chihuly and lifelong friends Fritz Dreisbach (whom he credited with the patience to teach him) and George Jercich. Pilchuck interviewed Jerry in 2020 and received his personal archive of his life-changing experience, in time for their 50th celebration.
Jerry returned to the Midwest in 1972 and built his first studio, Organic Glass, in a corner of his father's commercial garage, in Stevensville, MI. He built his second studio Fiasco Glass on his home property nearby. True to the time period, he used recycled bottles from a local bar to create functional work that reflected a "hippie" style. By teaching workshops, Jerry shared his love of this exciting new medium and inspired the first of many students, to become glass artists. There he also met his artistic partner and future wife, Kathy.
By day, Jerry taught art in local elementary school and at a community college. He spent nights, weekends and summers blowing glass. He would go on to earn his Master's and do post-grad work toward a PhD, to fulfill his teaching career in art education. He retired as the Art Education Field supervisor for Michigan State University (MSU). MSU also sent Jerry overseas to the Middle and Far East, where he taught graduate classes in art education to teachers on military bases and at American schools. On weekends, Jerry visited every local glassmaker he could find and marveled at their productivity in rustic settings.
Jerry often took his passion for glass on the road in a series of portable studios, to bring the medium to outdoor events and an intensive summer craft program for Miami University in Oxford, OH. His willingness to take an entire studio on the back of his Jeep truck also caught the attention of Ox-Bow Summer School of Art and Artists' Residency (in partnership with the School of the Art Institute of Chicago), in Saugatuck, MI. There Jerry founded the glass program and taught glassblowing and casting for 30 summers, from 1985-2015. Ox-Bow's open air glass studio was built on the edge of a beautiful lagoon near Lake Michigan. Jerry considered the studio's magnificent view comparable to that of Murano.
In 1990, Jerry and Kathy moved their home and studio, north, up the coast of Lake Michigan to Glenn, MI to be closer to Ox-Bow. They also opened an art gallery in a historic house on the property. For 23 years, countless students (and future glass artists) took classes in their barn studio and works by regional and national artists were exhibited in the gallery. The couple formed a group called the Blue Coast Artists, focusing attention on local working artists and the artmaking process during a popular fall tour of studios. The area between South Haven and Saugatuck, MI is now known as Michigan's Art Coast.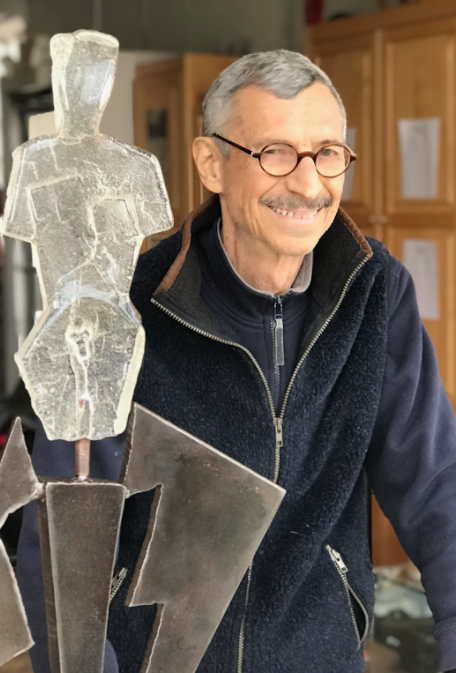 Nearing Jerry's retirement, the Catanias decided to grow their studio in response to an increasing demand for classes. In 1997, they purchased and renovated a condemned building in Benton Harbor, MI, to house a non-profit glass and metal school. They opened Water Street Glassworks in 2004. There they played a pioneering role in the revitalization of the distressed city, through the formation of an Arts District and added an exciting hub of activity, that only a glass studio can provide. At the heart of Jerry and Kathy's decision to bring glass to Benton Harbor was the potential impact and excitement of working with the community's youth. They founded a glass and entrepreneurial program called FIRED UP! for Benton Harbor area teens in 2004 – the third oldest, youth glass program in the country. When Jerry was ready to fully retire from teaching glass, he proudly "passed the blowpipe" to a talented, young artist, Eli Zilke, who serendipitously got his start in glass in the FIRED UP! program.
From 2012-2019, Jerry completed a string of six public sculpture commissions that took his artmaking to a whole new level and audience. A golf course, a bank, a medical center, a rehabilitation hospital, a public plaza dedicated to 9/11, and a childcare center – all reflect Jerry's amazing artistic ability and graceful sensibilities. This productive period complimented his public exhibition and private commission work and became the culmination of his artmaking career.
G.A.S. provided Jerry with opportunities to happily check two items off his bucket list: attending the 2018 conference held in Murano, and demonstrating his popular spin-casting technique in St. Petersburg, FL in 2019. Surrounded by his Water Street Glassworks "family"/ team in Florida – and with a surprise visit from Fritz Dreisbach, Jerry was in his element, sharing his love of glass with an audience of his peers. This exhilarating experience was the perfect way to celebrate a magnificent life and career in glass.
To hear Jerry's own words captured in a series of public interviews and see images from a special memorial exhibition held in October 2020, at the garage that housed his first studio, visit: www.waterstreetglassworks.org. Click on About/Founder.
Do you know someone who has passed that should be remembered on the GAS website? Have you written a memorial or obituary for a local, national, or international glass community leader? Please share your story with us using the following Memorial Form.